ABOUT US
ASCENT is fueled by the power of trust. In the last five years, we have created a unique and powerful peer-to- peer platform for entrepreneurs to share and exchange experiences, ideas and insights, which helps them grow their enterprise and enrich themselves in a confidential environment. ASCENT leverages the 'Power of Collective' and enables entrepreneurs through self-facilitated Trust Groups and an extended network of enablers. In November 2016, ASCENT created a large format Conclave (first of its kind for the foundation) with the objective to inspire, share and celebrate entrepreneurs in their growth journey for a much larger impact. The ASCENT Conclave 2016 achieved the following:

1. Created a platform for 450 entrepreneurs of enterprises of growth size ranging from 5 crs to 1500 crs for a day long intense engagement/ networking opportunity.

2. Delegates got an opportunity to learn from industry's best Thought Leaders, Change Makers and Innovators through their experience which enabled participants to gain insights to grow their own business.

3. Esteemed speaker list included Uday Kotak (MD, Kotak Mahindra Bank), Ronnie Screwvala (Unilazer), Vijay Shekhar Sharma (Founder Paytm), Ashish Hemrajani (Co-founder, Book My Show), Falguni Nayar (CEO, Nykaa.com), Anita Dongre (Founder, House of Anita Dongre Limited), Dr Velumani (Founder, Thyrocare Technologies Ltd.), Sasha Mirchandani (MD, Kae Capital), Neeraj Kakkar (CEO, Hector Beverages – Paper Boat), Sandeep Singhal (Nexus Ventures), Karthik Reddy (Blume Ventures), Dhanpal Jhaveri (Everstone Capital) and Bala Deshpande (NEA) and many more.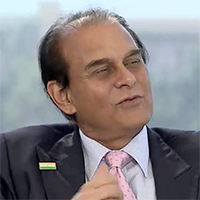 The ability to change gears from time to time is crucial for a successful business. Being nimble and adaptable to the changing business environment is a necessity, which for many entrepreneurs is a difficult task. 
- Harsh Mariwala (Marico Ltd. and ASCENT Foundation)
This Conclave, come and listen to thought leaders and innovators share their failure stories and their entrepreneurial journey, more than their successes. Be there at the St. Regis, Mumbai on Saturday, 11 November 2017 to witness ASCENT's second experiential sharing Conclave and get enriched.
6 Reason for attending the Conclave
2
Inspirational
Thought leaders,
Change Makers,
and
Innovators
3
Network with fellow entrepreneurs and ASCENTers
4
Experience the ASCENT way – 'power of collective'
5

Spark the
creativity in you
6
500 like-minded entrepreneurs attending the conclave